SEO for Fashion E-commerce in India: 10 Tips to Drive More Traffic
SEO for Fashion E-commerce in India: 10 Tips to Drive More Traffic
SEO for Fashion E-commerce in India: 10 Tips to Drive More Traffic
Do you want a miracle that will help you to drive more people to buy from your business?
You must be thinking, that does a miracle of this kind exist? Well, the answer to your question is yes!
SEO for fashion e-commerce is the best miracle that you are looking for. When you own an e-commerce store, the first and foremost thing you want to know is how to reach your target audience. And how this SEO helps you to do so.
It helps you to reach your target audience, ranks you on the top in organic search. However, you also know that people, first, go on Google and search for things and then proceed further to buy them.
Statistics show that now customers have started relying more on online purchases, and by the year 2040, the percentage will reach 95%. But, four years earlier, the sales for e-commerce were around $2.4 trillion, which will increase to $4.5 trillion by the end of this year.
E-commerce SEO best practices are said to be the perfect answer to all your worries. Through this search engine optimization (SEO) you can develop your fashion e-commerce business online.
Now, when you have all the reasons to believe in the online growth of your e-commerce site, let's see how you can do it.
SEO Tips for Fashion E-Commerce in India to Drive More Traffic
1. Create a User-Friendly and Structured Website
This is the most crucial component when it comes to applying SEO for fashion e-commerce on the website. Make your website user-friendly, so that the customers face no issues while buying anything. When your website is user-friendly and well-structured then it will keep the buyers engaged and it will be easy for them to buy things they want. Below are some points to remember-
a. Speed Optimized Site
Users don't prefer slow-loading sites. The website should be speed optimized and have the capability to load web pages quickly. You can check and optimize the speed of the site by using different tools like Page Speed Insights.
b. Fashionable/Stylish Look and Feel
Design your website with vibrant colors and attractive fonts. A dull website doesn't have the power to grab a customer's attention, cannot engage its users for a long time and, consequently, their customers lose their interest in buying from the website.
c. Proper Page Experience is a Must
Make your page viewing experience easy to browse. This will increase the chances to attract a customer, he/she may buy from your website. There are several metrics where Google can judge your website's page speed. Those metrics are called core web vitals, as you can see in the below example. This data is from the page speed insight tool, which shows FCP, LCP, FID, and CLS including lab data of your website.
d. Add Appropriate Call-to-Action
Call-to-Action buttons should be highlighted on your webpage so that users don't have to search for them and can take quick actions.
e. Choose the Proper Website Color Theme
Our mind remembers more things visually, when we choose a proper website color theme, the users tend to remember and can come back for buying more products.
2. Optimize Product Pages With Relevant Keywords to Drive More Traffic – SEO for Fashion E-commerce in India
To drive more traffic through SEO for fashion e-commerce, you need to invest your time in finding the right keywords. In simple language, keywords are power bases that determine where your website is placed in an organic search. Whereas, less appropriate keywords distract a lot of your audience.
Practice keyword research, prefer using long-tail keywords (keywords with more than 4 words) as they have less competition and show what exactly the buyer wants. Lastly and most importantly, search for keywords that are trending. Fashion is a sector that is not stable and trends keep changing. Put trendy keywords in your content to ensure driving the right audience to your website.
3. Keep Your Products into Categories – SEO for Fashion E-commerce in India
Now we know the importance and implementation of keywords, the next tip is to avoid misapprehending these keywords. When the same keywords are used for different pages of your website, the websites tend to compete with themselves instead of others during ranking. Now, to avoid this, you can simply divide your products into various categories.
For example: In the image given below, all the categories will fall into the keyword 'dresses for girls', which will compete among themselves during Google ranking. Once divided into the categories, the keyword misapprehend is avoided, and the ranking of the website will improve.
4. Seamless Navigation of the Site – SEO for Fashion E-commerce in India
Another important component of SEO for e-commerce is a smooth and seamless website navigation process. When users come to your site, they wish to find their desired products by easy navigating through the website. And when the navigation is poor, they tend to drop the idea of buying from your site.
In this example from Faballey, you can see how their navigation is designed systematically. Buyers can go for any category they want to buy from conveniently. Even the discounts and products on sale are placed clearly. This also enhances the user experience and hence increases the chances of their buying from the site.
5. Starting a Fashion Blog to Drive Great Results – SEO for Fashion E-commerce in India
A great step to incorporate SEO for fashion e-commerce on your website is through blogging. People usually search for fashion tips and trends on Google. Through regular blogging, you can attract the audience to your website and keep them engaged through the information. In this way, you are taking them to your website and in a way marketing your products with the information and increasing the chances of making their purchase.
6. Use Analytics or Heat Map Tools to Analyze Customer's Online Behavior – SEO for Fashion E-commerce in India
When you implement an e-commerce SEO strategy, you also need to see if they are working for your website or not. Yes, increased sales are one way to measure it, but all the factors do not come under it. And, however, high your sales are, there is always room for improvement.
How to track the user activity on your website? Well, there are analytics and heat tools available to give all the data in detail to see places that you can improve.
For example, Analytics for CTA links can be tracked through UTM trackers to the links. Other than this, heat map tools, like HotJar generate heat maps to show the no. of clicks on different sections of your webpage. When you have this information you can use it to improve the website accordingly.
7. Do Not Keep Any Web Page Isolated – SEO for Fashion E-commerce in India
When you create a website, it does not eventually come as a search result. This might be because something is missing and search engine spiders are not able to take them to a visible stage of the search. Hence, if you have isolated web pages on your website, they might be restricting spiders to move further and make the page visible as a search result.
The web pages should be linked together to get the spiders to move freely and make the website visible in the search engine. Make sure you double-check all the things and conduct an E-commerce SEO audit of your site.
8. Keep Making Backlinks from High-Authority Fashion Websites – SEO for Fashion E-commerce in India
The ranking of your website also depends on the strength of the inbound links. The inbound links through relevant web pages affect your ranking and take it upwards in the search result. For this, you would need backlinks from your industry-related website. Getting ranking through these backlinks is a bit trickier but surely gives results.
You can approach fashion bloggers and be a guest author, organize events, interview personalities from the fashion industry. This will give you a backlink and through which more links can follow.
9. High-Quality Visuals to Increase More Interaction
Fashion e-commerce depends on the visual representation of its product. When you put in high-quality visuals which can also be dynamic, users take your product to be more believable and can make a purchase. The visuals should be detailed and of high dimension to give a good visual experience to the user. SEO for fashion brands crucially depends on this factor to drive more traffic.
For example: In this link, you can see the quality of the visuals product. Even the material of cloth can be predicted just through the pictures. Also, they are from different angles and views to give a detailed picture to the user.
10. Ensure That Your Site is Mobile-Friendly
When everything today can be done on mobile phones easily, even online purchases are being preferred through mobile phones. A Ready Cloud report stated 67% of users prefer a mobile website to make online purchases. Hence, e-commerce SEO best practices make your website more mobile-friendly. This optimization also ranks your website through Google mobile-first indexing. There is a tool called mobile-friendly test by Google, check out this tool to know more about your site's mobile performance.
Conclusion
In today's digital era, online purchases are a lot preferred. Hence, owning fashion e-commerce with good products cannot bring sales unless you can reach your target audience. SEO for clothing brands can help in reaching your target audience and upgrade your ranking in search engines. The tips above will help you to optimize your websites and increase your sales. If you are looking for the best SEO E-commerce agencies, then contact Olbuz. We are a team of complete digital marketing that provides the best quality digital marketing services for all your SEO needs.
YGOASO article List
SEO Tips for Fashion eCommerce Websites in India | Fashion Brands SEO
SEO Tips for Fashion eCommerce Websites in India | Fashion Brands SEO
SEO Tips for Fashion eCommerce Websites in India | Fashion Brands SEO
The fashion industry is one of the most competitive industries in the world. The competition between fashion brands and retailers has never been so fierce, with many companies fighting to get their products seen by potential customers online. This means that it's essential for your eCommerce website to be optimized for search engines such as Google or Bing. In this article, you will find helpful information on how to twitch your eCommerce SEO strategy to put your eCommerce business above your competition. Follow along to learn more about SEO for fashion eCommerce websites.
Why Is SEO Crucial for Fashion eCommerce Websites? – SEO Tips for Fashion
Search engine optimization is the process of improving your website's visibility in search engines. It involves a lot more than just adding keywords to your website, and it can be pretty complex if you don't know how to do it. But with some basic knowledge about how Google works, as well as an understanding of how people use search engines, you'll soon see results from this simple but effective technique.
SEO is crucial for fashion eCommerce sites because it will change the way you sell online. Implementing a rock-solid search engine optimization strategy can increase your conversion rate, boost search rankings, and increase organic visibility. The fashion sector should focus on this aspect as 44% of people start their online shopping journey with a Google search query. Furthermore, eCommerce online stores should be optimized for organic search as 23.6% of eCommerce orders are directly tied to organic traffic.
A compelling digital marketing strategy is highly effective in positioning fashion eCommerce stores. We highly recommend business owners focus on SEO and online marketing activities to reach their target audiences. In the fashion sector, numerous brands offer the same type of products and have the same target audience. Because of this aspect, it is hard to stand out from the crowd. Here is where search engine optimization and online marketing techniques come into play. In the following chapters, we will discuss these elements and actions to help you overcome your competition.
What Are the Elements of Positioning Your Fashion Ecommerce Website and Increase Search Rankings? – SEO Tips for Fashion
The right positioning of your online fashion store is essential not only for search engines but for increasing your online sales.
7 SEO Tips for Fashion eCommerce Websites – SEO Tips for Fashion
If you want to create a fashion brand that stands out from the crowd, has an impact on your target customers and will increase your sales, we have 7 SEO tips for you that will help you reach your goals.
1. Make sure your website is user-friendly – SEO Tips for Fashion
A user-friendly eCommerce website is a must to keep visitors engaged and boost sales. When users spend more time on your website, Google receives positive signals and recognizes your site as relevant and helpful to visitors. The outcome of these signals is a better rank on the search results page that will drive more traffic to your pages. If you want people to stay on your site and browse through your fashion products, you should consider optimizing several SEO components such as:
2. Drive organic traffic by optimizing relevant keywords – SEO Tips for Fashion
The next step we recommend focusing on for your online clothing store is choosing relevant keywords and optimizing them. Keywords play a central role in deciding what product pages appear in the SERP (search engine results page). If you do not use the right keywords on your pages, you will lose valuable organic traffic for your online business. We advise you to conduct keyword research using online tools such as Ubbersuggest or Keywordsheeter. Take a look at the People Also Ask box and Related searches on Google's SERP. By doing so, you will get more keyword ideas of what target keywords people are using when typing their queries. We also recommend focusing on long-tail keywords as they are more specific and define users' commercial intent. When you find the relevant keywords, including a short-tail keyword, make sure you integrate them into your meta title and meta description. This information is the first thing your online audience sees when they discover your fashion eCommerce website. On-page SEO is crucial for a high keyword ranking.
3. Help visitors find your products with easy-to-use navigation – SEO Tips for Fashion
A meaningful component of your fashion eCommerce website is your website architecture and navigation. When your audience comes to your website, they should easily find your product categories and products. When the website navigation is complex, and your website architecture is disorganized, you risk losing customers. We strongly recommend you build an easy-to-use and straightforward navigation. Pairing your products into categories by gender, including promotions and new arrivals, will show users that you put effort into making their experience better. Your eCommerce category content should also be organized. This setup makes it easier for your visitors to find your products. We advise you to make your navigation visible and place it in a commonplace (towards the top of your page).
4. Set up a fashion blog – SEO Tips for Fashion
When we talk about a fashion eCommerce website, one of the most important assets is a blog. Creating a strategy for an eCommerce blog will help you drive relevant and valuable traffic to your page and boost your SEO ranking. Users are continuously in search of information about the latest fashion trends and fashion tips. By presenting this information to your target customers, you will keep them on your website longer, decrease your bounce rate and influence them to browse on your website. To put the base of a blog, you have to research topics and ideas you want to write about and are of interest to your target audience. We strongly encourage you to take advantage of content marketing and post regularly. Keep your blog content fresh, use internal links, promote your products, etc.
5. Keep your customers engaged by using high-quality visuals – SEO Tips for Fashion
A fashion eCommerce website must include eye-candy visuals to showcase the products. Images and videos are fundamental to online clothing stores because they keep customers engaged and put your products in an attractive light, encouraging direct sales. We do not encourage the use of stock photos! The photos you use should present the reality. Keep in mind that image file size can slow down your website. We recommend image optimization to keep your website at a fast loading speed. Use image compression tools such as TinyPNG that reduces the image file sizes while maintaining their quality.
6. Ensure that your website is mobile-friendly– SEO Tips for Fashion
Having a mobile-friendly website is a necessity nowadays. 76% of internet users shop on smartphones. More than that, Google has a mobile-first indexing policy, which makes having a mobile website a key factor for a high ranking in the SERP. We recommend using the Google Mobile-Friendly Test tool to check how your website looks on mobile devices. As a business owner, you have to make sure that your online store works properly on every device to avoid missing clients. If your website is not mobile-friendly yet, you can optimize it by implementing responsive design, dynamic serving or dedicated mobile sites.
7. Keep your website up to date – SEO Tips for Fashion
We have noticed that many business owners think that website maintenance is not necessary after their online business is live. We are afraid that's not right, and maintenance is absolutely crucial to keep security data breaches away. An eCommerce website deals with sensitive client information, including credit card details. You should be aware of the most common website vulnerabilities and make sure you cover the security activities to avoid them. What we recommend is to schedule your eCommerce updates and maintenance work. Your product catalogue should vary, and you can also create new blog posts for your new collections with high-quality pictures. If you don't keep your website up to date, Google can classify it as abandoned and stop ranking it.
Our Advice – What You Should Avoid? – SEO Tips for Fashion
Fashion eCommerce websites are more intricate than simple blogs or a seven pages presentation company website. It would be best if you understood that having lots of product pages constantly on and off the site will raise a series of SEO issues, making website optimization more difficult. We have made a list of the most common SEO errors of a fashion eCommerce online store that you should avoid:
Our Expertise – SEO Tips for Fashion
When we talk about fashion eCommerce, one of the most crucial factors is to know your audience and its behaviour. Our approach in this step is to conduct a thorough target market and competition research. Based on the findings, we will create a detailed buyer persona representing a large percentage of the target audience. For our fashion eCommerce client, we have implemented custom development solutions and complete digital marketing services.
With a rock-solid SEO strategy, we increased the organic traffic by 58% in the first month and by 79% in the second month. More than that, in the first month, our client sold more than 328 products. Read all about our approach and results in this eCommerce fashion case study.
Having a fashion eCommerce website is not easy. We are here to help you with anything you might need. You can count on us to help your business grow healthily and constantly. Contact us today, and let's start making the changes that your website so much needs.
Why is SEO for eCommerce different from SEO for other websites?
Because eCommerce is different, more complex, and the competition is brutal. It is a client-oriented business, not content-focused.
What is the core element of SEO for eCommerce?
In our opinion, the core of SEO for eCommerce is understanding your audience and its behaviour.
If I start writing a fashion blog, how fast can I see results?
Depends. Usually, it takes from 3 to 6 months, but it can go up to one year. Just have patience.
Who can help me build a rock-solid fashion SEO strategy?
You should consider hiring an SEO expert or a digital agency with proven experience in this field.
YGOASO Article List
SEO for Fashion Ecommerce in India: Tips on SEO for Fashion Brands or Fashion Ecommerce SEO
SEO for Fashion Ecommerce in India: Tips on SEO for Fashion Brands or Fashion Ecommerce SEO
SEO for Fashion Ecommerce in India: Tips on SEO for Fashion Brands or Fashion Ecommerce SEO
Do you want more people to find your fashion brand online?
If so, search engine optimization (SEO) for fashion ecommerce is what you need to help more leads connect with your brand. SEO will help your beautifully-designed clothing appear in front of fashion lovers who want to buy your products.
On this page, we'll provide you with six tips for getting started with SEO for online clothing stores. Keep reading to learn more, and if you want to stay up to date on the latest marketing tips and trends, subscribe to our weekly newsletter!
1. Build a user-friendly website to boost engagement – SEO for Fashion Brands
When you implement SEO for fashion ecommerce, you'll find that one of the most important components is your website. If you don't have a user-friendly website, people won't stay on your site and browse your fashion products.
A user-friendly website keeps leads engaged because it makes it easy for users to browse your site and find what they need. If users spend more time on your site, it sends a positive signal to Google that your site is relevant and helpful for users. As a result, you'll rank better in search results and continually drive more traffic to your page.
So, how do you create a user-friendly website?
Make sure your site loads quickly – SEO for Fashion Brands
Users don't want to wait for slow-loading pages — they want to access your clothes quickly. To ensure your site loads quickly enough, use Google PageSpeed Insights to see how quickly your site currently loads and use their suggestions to make improvements. You could also use a page speed SEO checker.
You can also invest in page speed services if you don't have experience with optimizing the backend of your site.
Create product pages that are easy to shop – SEO for Fashion Brands
If you make your product pages easy to browse and shop, your audience will spend more time on your site and will be more likely to buy. The brand Old Navy is an excellent example of how you can provide a better shopping experience on your product pages.

Old Navy makes it easy for shoppers to browse color and pattern options available for a specific type of product, as well as the availability of sizes for each. Additionally, since these products range in price, they separate them so users can quickly see how much each shirt costs.
This product page is an example of how you can make it easy for your audience to browse your products and find what they want.
Add calls to action (CTAs) that stand out – SEO for Fashion Brands
Your CTA buttons are an essential part of the user experience. Whether someone wants to learn more about your fashion brand or add your product to their cart, it's vital that they can easily find CTA buttons to guide them to the next step.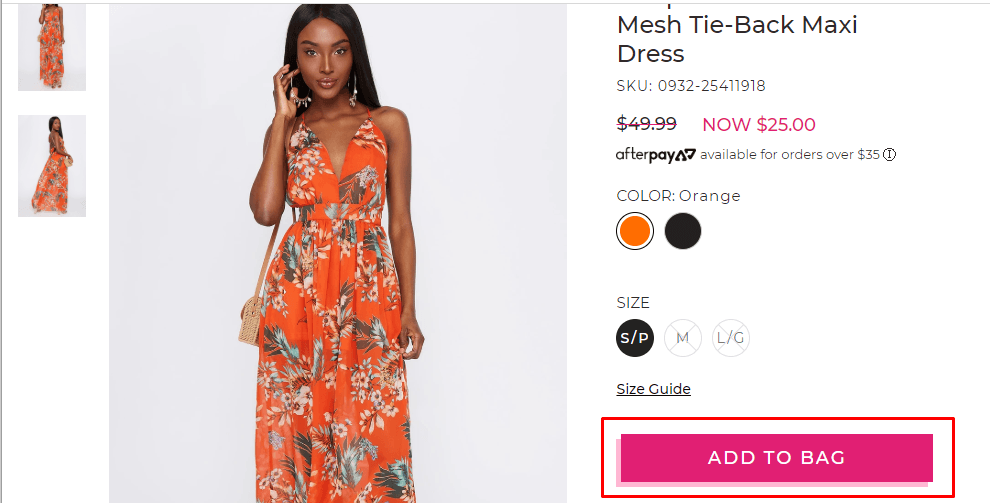 In this example, you can see that the pink CTA button pops off the page and stands out to shoppers. If someone wanted to add this to their cart, they could do it easily. CTAs that stand out on the page provide a better user experience for your audience.
Choose font carefully – SEO for Fashion Brands
When you create your product pages, you want to ensure that your audience can easily read the content on your page. If your audience can't read the details of your product, they're not likely to buy your product.

Having a clear font is critical to the user experience because it enables your audience to learn about your product, which nudges them closer to conversion.
These are just a few ways you can improve the user experience on your site, so your site performs better in the search results.
Bonus tip for SEO for fashion ecommerce: Don't forget to optimize your shopping cart! If your audience struggles to check out or you ask for too much information, you risk leads bouncing from your page and abandoning their cart. Monitor your checkout experience to ensure you're providing a positive experience that encourages leads to convert!
2. Optimize for relevant keywords to drive more traffic – SEO for Fashion Brands
Next on our list of tips on SEO for online clothing stores involves choosing keywords. Keywords play a fundamental role in determining where your products appear in search results. If you aren't integrating the right keywords into your page, you'll miss out on valuable traffic for your business.
To find relevant keywords for your product listings, you'll need to conduct keyword research. Keyword research enables you to find relevant terms for your product pages. You can use keyword research tools, like KeywordsFX, to help you find these relevant terms.
When you conduct keyword research, focus on long-tail keywords. Long-tail keywords are keywords that contain three or more words. These keywords are more specific, so they attract leads looking for your products.
So, for example, a keyword like "women's black ankle boots," will drive more relevant traffic than someone who searches "boots." With a keyword like "boots," it's difficult to know what the person wants to find. A specific keyword like "women's black ankle boots," gives you exact details about what a person wants.
To help you do SEO for fashion brands right, focus on specific, long-tail keywords for your product pages to ensure you're driving the right leads to your page.
Bonus tip for SEO for fashion ecommerce: When you find relevant keywords, integrate them into your title tag and meta description. This information is the first thing your audience sees when they discover your site, so it's important to integrate your keywords into these elements to show your page is relevant.
3. Create easy-to-use navigation to help leads find products – SEO for Fashion Brands
A critical component of your website is your navigation. When users visit your site, they want to be able to browse your products easily. If your navigation is difficult to use or disorganized, you risk losing site visitors to a competitor.
To get the most out of SEO for online clothing stores, focus on building easy-to-use, straightforward navigation.

In this example from Aeropostle, their navigation is laid out clearly into categories. You can shop by girls or guys clothes, as well as by new arrivals or clearance.
You'll also want to organize your content under each category. Here's an example from Charlotte Russe.

As you hover over each category, you can see the products are laid out into categories to help the shopper find products faster. For their dresses, you can shop by fit or by occasion and their jeans are sorted by fit and style. This setup makes it easy for shoppers to find products.
Bonus tip for SEO for fashion ecommerce: Place your navigation where your audience will see it! Some companies try to make their site unique by placing their navigation in an unusual place, but it can cause leads to leave your site if they can't find the navigation. Typically, you'll want to keep your navigation towards the top so users can find it easily.
4. Start a fashion blog to drive organic traffic
One of the most significant assets of SEO for fashion ecommerce is blogging. Blogging helps you drive valuable traffic to your page and boost your SEO ranking in the search results.
People continually search for information about the latest trends and fashion tips. By providing that information for your audience, you keep them on your page longer and get them to browse on your site.
So, how can you start a fashion blog?
To start blogging, you need to come up with topics or ideas that you want to cover. You'll want to think about common questions your shoppers ask and popular topics around fashion. Once you have a few topics, you can plug them into Google to see what others write about that topic.
Additionally, you can use Google's "People Also Ask" section to see what related questions people ask.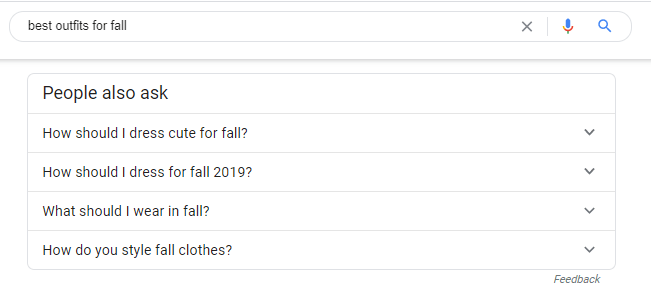 With all this information, you can create blog posts that provide your audience with valuable information about topics of interest. Creating blog posts about industry-related topics will help you drive qualified leads for your business.
Bonus tip for SEO for fashion ecommerce: Post content often — if you want to get the full experience from your blog, you need to frequently create content. When you blog often, it keeps your blog fresh, offers more content for your audience to browse, and enables you to reach leads who search for different topics.
5. Use high-quality visuals to keep leads engaged
As a fashion ecommerce company, you rely on visuals to help you showcase your products to your audience. Visuals are fundamental to SEO for online clothing stores because they keep leads engaged on your page.
You can use photos or videos to showcase your products to your audience. It helps your audience get insight into your products, while also increasing their time spent browsing your product.

These visuals are critical to increasing dwell time on your page. If you provide high-quality and engaging visuals, like the example from Old Navy above, you'll keep your audience's interest in your products.
Bonus tip for SEO for fashion ecommerce: Ensure your visuals don't slow down your site! Photos and videos can slow down your site because they have large file sizes. For photos, you can use an image compression tool, like Kraken, to ensure it doesn't slow down your site — videos will require hosting on an external site, like YouTube or Wistia, to keep from slowing your site down.
6. Make sure your site works on mobile
The last tip for SEO for fashion ecommerce is to make sure your site works on mobile. Considering 76% of consumers shop on smartphones, you must have a mobile-friendly site.
Additionally, since Google moved to mobile-first indexing, having a site that works great on mobile is critical to your SEO and ranking highly in the search results.
You can use Google's Mobile-Friendly Test to see if your site looks good on these devices.
If your site isn't mobile-friendly, you can optimize it by integrating responsive design. Responsive design allows your site to adapt to whatever device a user uses. Your site will adjust to fit the screen properly, so users have a seamless experience.
Bonus tip for SEO for fashion ecommerce: Adding mobile-friendly elements can help add to a positive user experience. These elements include hamburger menus, thumb-friendly scrolling, and CTAs scaled, so users can easily click on them.
Get started with SEO for fashion ecommerce today
SEO for online clothing stores will help you boost traffic to your website and drive more qualified leads for your business. If you aren't sure how to get started, our team at WebFX is here to help.
We have over a decade of experience in running SEO campaigns that drive results. In the past five years, we've driven over $3 billion in sales and over 7.8 million leads for our clients. As a top-rated SEO agency, you can count on us to help your business thrive online.
Ready to start doing SEO for fashion brands? Contact us online or call us today at 7506-172-142 to speak with a strategist about our ecommerce SEO plans!
YGOASO Article List